You are here: Home → Worksheets → Volume & surface area
Free worksheets for the volume and surface area of cubes & rectangular prisms
This generator makes worksheets for the volume and surface area of cubes & rectangular prisms. The problems show a picture of the prism with its dimensions, and ask for either volume or surface area. This generator is meant for 5th and 6th grades when students learn about volume, and includes worksheets for rectangular prisms with fractional edge lengths.
You can also make problems where the volume or surface area is given, along with some dimensions, and then you need to calculate either the volume or the surface area. These worksheets are good for 7th-9th grades as they are more challenging and may require the use of an equation.
You can control the type of problems, number of problems, maximum number used, the types of fractions used, workspace, border around the problems, and additional instructions.
The worksheets come with an answer key; however, you need to click to the answer key page immediately after generating a worksheet, because the answer key also is generated 'on the fly', and won't exist later on, should you come looking for it later.
Here are some quick links for ready worksheets. Refresh the worksheet page to get another of the same kind.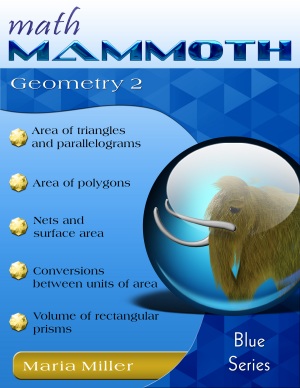 A self-teaching worktext for 6th-7th grade that covers the area of triangles, parallelograms, and polygons, pi, area of circle, nets, surface area, and volume of common solids.
Download ($5.70). Also available as a printed copy.
=> Learn more and see the free samples!