You are here: Home → Worksheets → Percent
Percent of Number Worksheets
(Percentages)
This worksheet generator makes worksheets where the student calculates the given percent of a number. You can choose the range of the percent and of the base number. Using the percent step 10 or 25 and limiting the range can be used to make worksheets for mental math. Change the different options to see what their effect is.
After you have generated a worksheet, you can just refresh the page from your browser window to get another worksheet with different problems but using the same options.
All worksheets come with an answer key. You can print the worksheet directly from your browser, or save it on disk using the "Save as" command of your browser. If the problems on the worksheet don't fit the page or there is not enough working space, choose a smaller font, less cellpadding, or fewer columns of problems.
Examples: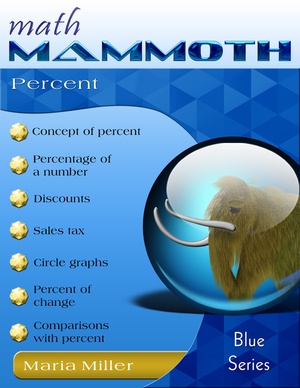 A self-teaching worktext for 5th-7th grade that covers percent, percentage of a number, discounts, sales tax, percent of change, and comparisons with percent.
Download $3.20 or Pay What You Want!
Also available as a printed copy.
=> Learn more and see the free samples!