Free Worksheets for Order of Operations
This page includes TWO worksheet generators for the order of operations. The first one works best approximately for grades 1-5, and the second one for grades 5-9. Both let you customize the worksheets, in different ways.
The first generator (grades 2-5) lets you choose from five different operations to include (the four basic operations plus exponents), choose to include parentheses or not, and choose the basic number ranges used in the different operations. You can use decimals or whole numbers.

This generator uses the symbol ÷ for division, as is customer in elementary grades. You can also control the workspace below problems, font size, and whether there is a border around each problems. However, the first generator does not work correctly if you include both exponents and parenthesis. It also does not display negative numbers in the best way. Sorry about that! However, I feel the generator is STILL very useful for lower grades to make problems including the four operations, or problems with exponents without parenthesis, so I am including it here on this page.


The second generator (grades 6-9) includes by default all four operations and parenthesis. You can choose to include exponents or not. The second one uses fraction line for division, and thus involves fractions. It uses a raised dot for multiplication (as is customary in algebra). Again, you can include decimals or not, control the number of problems, workspace below the problems, font size, and whether there is a border around the problems.
Use the "quick links" below to make some common type worksheets.
Addition & subtraction only, numbers within 0-10, no parenthesis (grades 1-2)
Addition and subtraction only, within 0-30, including parenthesis (grades 2-3)
The basic operations, small numbers, no parenthesis, using four numbers (grades 3-4)
The same as above, with parenthesis, more challenging (grades 4-5)
All five operations, no parenthesis (grade 6)

two or three operations, uses the fraction line & fractions, no negative numbers & no exponents (grade 6)
Two or three operations, no negative numbers, includes exponents (grades 6-7)
Two, tree, or four operations, no negative numbers, includes exponents (grades 6-7)
Two operations, uses the fraction line & fractions, uses negative numbers & no exponents (grades 7-8)
Two or three operations, uses the fraction line & fractions, uses negative numbers & no exponents (grades 7-9)
Two or three operations, negative numbers, exponents (grades 7-9)
Challenge: three or four operations, negative numbers, exponents (grades 7-9)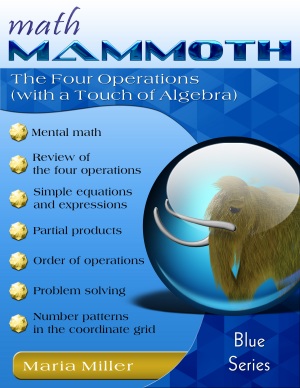 A self-teaching worktext for 5th-6th grade that covers simple equations, scales problems, expressions that involve a variable, the order of operations, long multiplication, long division, and graphing simple linear functions.

Download ($7.30). Also available as a printed copy.

=> Learn more and see the free samples!


include '../footer.php'; ?>