You are here: Home → Worksheets → Equations
Free equation worksheets
With this worksheet generator, you can make customizable worksheets for linear equations (first-degree equations). These worksheets are especially meant for pre-algebra and algebra 1 courses (grades 6-9).
You can choose from SEVEN basic types of equations, ranging from simple to complex, explained below (such as one-step equations, variable on both sides, or having to use the distributive property).
Please use the quick links below to generate some common types of equation worksheets.
One-step equations, whole numbers, with no negative numbers involved
One-step equations, whole numbers, the root may be a negative number
One-step equations; involves negative integers

Two-step equations
Variable on both sides and includes parenthesis

Challenges; includes rational expressions, such as (x - 5)/6, within the equations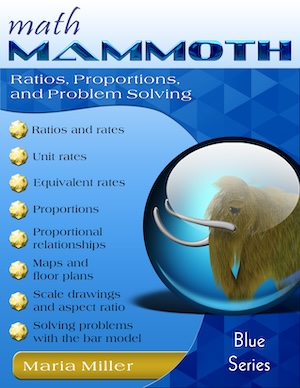 A self-teaching worktext for 6th-7th grade that covers ratios, proportions, aspect ratio, scaling, and various kinds of problem solving with the help of a bar (block) model.
Download ($5.00). Also available as a printed copy.
=> Learn more and see the free samples!