You are here: Home → Worksheets → Area & perimeter
Free worksheets for area & perimeter of rectangles
This is a very versatile worksheet generator, with which you can create a large variety of problems for practicing area and perimeter of rectangles & squares.
The problem types include:
problems for the area & perimeter of rectangles and squares, with grid images or normal images
word problems, including ones asking for a side length when area or perimeter is given
problems with irregular rectangular shapes
problems to practice distributive property with two-part rectangular areas (required by Common Core Standards in 3rd grade).
You can control the number of problems, workspace, border around the problems, and additional instructions.
Here are some quick links for ready worksheets. Refresh the worksheet page to get another of the same kind, until you are happy with the problems & layout.
Area & Perimeter of Rectangles Worksheet Generator
There are six different problem types. Choose at least one.
Type 1:
Find the area/perimeter of rectangles & squares (grid image; max 12 columns & 12 rows)

Type 2:
Draw a rectangle with a given area/perimeter (grid image; max 12 columns & 12 rows)

Type 3:
Word problems

Type 4:
Area/perimeter of rectangles & squares (image)

The following options apply to both problem types 3 and 4 listed above.

Use
whole numbers (the range is above)
decimals up to decimal digits
proper fractions
mixed numbers

Measuring units to use:


(unit)
mm
cm
m
km

in.
ft
yd
mi.





Type 5:
Area/perimeter of irregular rectangular shapes
include challenges

Type 6:
Write an expression for the area of a two-part rectangle from image (distributive property)
(Columns needs set to 1 for the layout to work properly here.)

Level 1: Fill in the expression.
Level 2: Write the expression.
Level 3: Draw the rectangle.
Level 4: Any of the above.

The rectangle is drawn showing the rows & columns (max 20 rows/columns – determined by the maximum of number range above)

Font: Font Size:

Cell Padding: Border:
Your title and
instructions
(HTML allowed)
Download 300+ free QUALITY math worksheets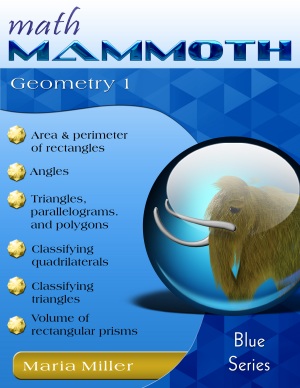 A self-teaching worktext for 4th-5th grade that covers angles, triangles, quadrilaterals, cirlce, symmetry, perimeter, area, and volume. Lots of drawing exercises!
Download ($6.90). Also available as a printed copy.
=> Learn more and see the free samples!