You are here: Home → Online resources → Exponents
Online games and resources for exponents
This is an annotated and hand-picked list of online games and resource related to exponents. I have tried to gather a variety of resources, and have personally hand-picked each website, to make sure it is truly useful for my site visitors!
Exponents and powers
Free exponent worksheets
Create a variety of customizable, printabe worksheets to practice exponents.
www.homeschoolmath.net/worksheets/exponents.php
Baseball Exponents
Choose the right answer from three possibilities before the pitched ball comes.
www.xpmath.com/forums/arcade.php?do=play&gameid=95
Exponents Quiz from ThatQuiz.org
Ten questions, fairly easy, and not timed. You can change the parameters as you like to include negative bases, square roots, and even logarithms.
www.thatquiz.org/tq-2/?-j1-l4-p0
Exponents Jeopardy
The question categories include evaluating exponents, equations with exponents, and exponents with fractional bases.
www.math-play.com/Exponents-Jeopardy/Exponents-Jeopardy.html
Pyramid Math
Simple practice of either exponents, roots, LCM, or GCF. Drag the triangle with the right answer to the vase.
www.mathnook.com/math/pyramidmath.html
Exponents Battleship
A regular battleship game against the computer. Each time you "hit", you need to answer a math problem involving exponents (and multiplication).
www.quia.com/ba/1000.html
Exponent Battle
A card game to practice exponents. I would limit the cards to small numbers, instead of using the whole deck.
www.learn-with-math-games.com/exponent-game.html
Pirates Board Game
Steer your boat in pirate waters in this online board game, and evaluate powers.
mathgames4children.com/fun-board-games/6th-grade/pirate/exponents-pirate-waters-grade-6-game.html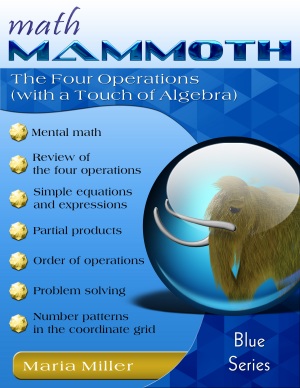 A self-teaching worktext for 5th-6th grade that covers simple equations, scales problems, expressions that involve a variable, the order of operations, long multiplication, long division, and graphing simple linear functions.
Download ($7.30). Also available as a printed copy.
=> Learn more and see the free samples!